WS1080
From The RadioReference Wiki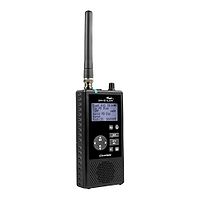 The WS1080 is manufactured by The Whistler Group. It is operationally the same as the original GRE PSR-800 and current Radio Shack Pro-668. Each of the aforementioned models have their own included software package which should only be used with the model it was supplied with.
General Specifications
Bands Received
Spectrum Sweeper

25-54 MHz VHF Low Band
108-137 MHz VHF Aircraft Band
137-174 MHz VHF High Band
216-300 MHz 220 MHz Commercial/Amateur Band
300-406 MHz UHF Military Air Band
406-470 MHz UHF Band
470-512 MHz UHF-T Band
764-782 MHz 700 MHz Band
791-797 MHz 700 MHz Band
806-869 MHz 800 MHz Band
894-1300 MHz 900 MHz Band, 23 cm Amateur Band
Public Safety

33.4-46.5 MHz VHF Low Band
151-170 MHz VHF Aircraft Band
453-467 MHz VHF High Band
764-782 MHz 700 MHz Band
791-797 MHz 700 MHz Band
806-869 MHz 800 MHz Band
RR System Compatibility
This scanner is compatible with the following Trunking System Types and System Voices used in the RadioReference Database, of course you must verify that the scanner will cover the appropriate frequency range:
System Types:

Motorola Type I
Motorola Type II
Motorola Type IIi Hybrid
Motorola Type II Smartnet
Motorola Type II Smartzone
Motorola Type II Smartzone Omnilink
EDACS Standard (Wide)
EDACS Standard Networked
EDACS Narrowband (Narrow)
EDACS Narrowband Networked
EDACS SCAT
EDACS ESK (not ProVoice)
LTR Standard
Project 25 Phase I & II
Motorola X2 TDMA
System Voices:

Analog
Analog and APCO-25 Common Air Interface
APCO-25 Common Air Interface Exclusive
In the Box
WS1080 Radio
USB Cable
Flex Antenna
MicroSD Card
Supporting Software
ONLY the included WHISTLER EZ Scan Digital Software.
Yahoo Groups and Message Boards
Technical Issues
Do you have Connection Issues Under Win 10.x?
The update for DMR is available under the PC App as of 6/1/2016
Information regarding the Dwell setting and Dwell times for various system types: [1]
External Links
Return to the Whistler Scanners page