Central New York Interoperable Communications Consortium (CNYICC)
From The RadioReference Wiki
Multi-County
Public Trunked Radio System


Name
Central New York Interoperable Communications Consortium (CNYICC)
Owner
New York State
Owner Type
Public
Counties
Cayuga, Madison, Onondaga, Oswego, Oneida, Jefferson
State
New York
Country
United States

---

System Details
Band
UHF, VHF
Type
Project 25 Phase I
ID
2AE
WACN
BEE00
NAC
2A0 (Onondaga Simulcast), 2A4 (Oswego Simulcast), 2A5 (Oneida Simulcast), 2A6 (Jefferson Simulcast), 2A7 (Madison Simulcast), 2A8 (Cayuga Simulcast)

---

FCC Callsign(s)
WQDY448, WQKJ409, WQKK218, WQKP897, WQLN992, WQLT768, WQLT878, WQLU267, WQLU268, WQNB579, WQOJ786, WQOJ787, WQXS587, WQYF524, WRCC846

---

System-specific links
Database
FCC Site Map
Forum
RR Site Map

---

Other Resources
Trunktracking
FAQ
Trunktracking
Glossary

---

Wiki FAQ
MediaWiki
QuickRef
PDF Card
Wiki Home → Collaboration Gateway → United States → New York → Cayuga, Madison, Onondaga, Oswego, Oneida, Jefferson Counties → Central New York Interoperable Communications Consortium (CNYICC) TRS

Welcome to the Central New York Interoperable Communications Consortium (CNYICC) collaboration article, a Multi-County Public Trunked Radio System located in Cayuga, Madison, Onondaga, Oswego, Oneida, Jefferson Counties, New York, United States.
This is where you, the user, may index any articles you develop for scanning related topics for this Trunked Radio System.

The Central New York Interoperable Communications Consortium is a multi-county APCO Project 25 compliant project designed to function as an "interoperable land mobile radio communications system, one that immediately supports Fire, EMS and Law Enforcement, and whose design will support others, such as highway, schools, water, and other vital utility and service functions." Jefferson County is currently in the planning stages for a UHF P25 system slated for installation in the near future and will join the consortium upon its completion.
Onondaga County Interoperable Communications System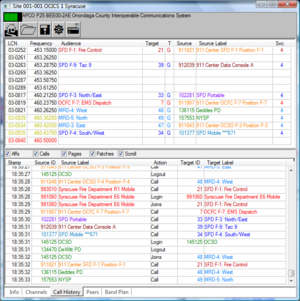 The Onondaga County Interoperable Communications System is a 15 site Motorola APCO P25 simulcast trunked radio system, currently 13 frequency pairs are available for voice communication. Testing of the system began in late 2009 and the Syracuse Police Department became the first agency to go live on the system on February 2, 2010. Onondaga County police agencies followed a month later, with County Fire and EMS agencies approximately two months later. The City of Syracuse Fire Department was the last county public safety agency to switch over to the system in June of 2010. Currently all public safety radio operations for Onondaga County are conducted on this system. Rural/Metro Medical Services (the primary EMS provider for the city of Syracuse) retained their own private VHF radio system independent of the 911 Center, however in 2016 American Medical Response (successor to Rural/Metro) transitioned to the OCICS for dispatching and tactical operations.
Day to Day Operation
---
Police agencies on the system are dispatched from dedicated area talkgroups (3 for county police agencies, and 2 for Syracuse city police). Larger scale events (hostage situations, chases, etc.) are often moved from one of area talkgroups to "Channel 1" (TG 31 for the City of Syracuse, TG45 for the county) to avoid disruption of routine dispatch operations. Additional tactical channels are assigned as needed.
County Fire and EMS are dispatched from talkgroups 1 and 7 respectively. Events that are anticipated to require a dedicated operations channel are assigned a one of 10 'tact' channels in the following order: 3,4,6,8,9,10,11,12,13,2. Tact-2 (TG 2) is reserved for communications for events not requiring the assignment of a dedicated talkgroup, and as such is assigned last.
City of Syracuse Fire dispatch assigns operations channels based upon the district chief assigned to the call. Channels 2 and 12 for Car 2's first due; channels 3 and 13 for Car 3's first due; and channels 4 and 14 for Car 4's first due. These pairs correspond to talkgroups 22, 23, and 24 respectively. The assignment of two channels represents a subtlety in the programing of SFD Radios: channels 2, 3, and 4 correspond to three UHF simplex frequencies which are used as direct talk fireground frequencies ( the Syracuse Fire Department expressed concern about the ability of the TRS to provide adequate fireground coverage during the design phase of the system). Each of the district chief's vehicles contains a repeater which repeats the simlex frequency out to the TRS on the appropriate talkgroup. Channels 12, 13, and 14 are direct access channels to TGs 22, 23, and 24.
Syracuse Fire events that are not assigned a district chief, but require an operations channel (all district chiefs already on calls, stuck elevator, etc.) are assigned channels 7(TG27), [8](TG28), or 9(TG26). All events taking place at Hancock International Airport are assigned to channel 6 (TG29).
Custon Band Plan
A Custom Band Plan that may have to be set in scanner to initially receive any CNYICC traffic Band Plan Settings Thread. Also, please review the Simulcast Distortion for more info.
Related Links

Return to Wiki page: Trunked Radio Systems (NY)