BC898T
From The RadioReference Wiki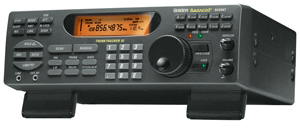 500 Channel Programmable Base Scanner with TrunkTracker III
General Specifications
Rebanding supported? YES
Frequency Coverage

25-54 MHz
108-174 MHz
216-512 MHz
806-956 MHz (excluding cellular)

Multiple Channels (500) / Banks (10)
Control-Channel Only scanning
1000 Talk Group ID's in 10 Lists of 10 per Bank - Let's you quickly select the talk groups you want to hear when you listen to trunked systems.
100 cps scan rate
I-Call monitoring
SAME Weather Alert - Specific Area Message Encoding - During a NOAA Weather or Emergency Alert, a code for your specific location will alert you to severe conditions in your immediate area.
Conventional and Trunked Search Operations - Let's you find transmissions not listed in any book or anyone's web site.
Auto store
Auto record
10 Priority channels with Priority Scan
Programmable Delay - When programmed on a channel, it allows time for a reply on the same channel before resuming to scan.
10 Programmable Searchs - Allows you to set the upper and lower limits of specific frequency range for easier searching.
Signal strength meter
Modulation Capability (AM/FM/NFM)
Frequency Steps (kHz) 5/6.25/12.5/25
200 Talk Group Skip Memories
100 Search Skip Memories
Data skip
AC Adapters, DC Power Cable and Automotive Power Outlet Plug - More options for supplying power to your scanner at home or in your car.
Owner's Manual
Modifications
Reviews and User Opinions
Related Pages
Supporting Software
These 2 packages listed the 898 as Future Support
Yahoo Groups and Mailing Lists (software and receiver support)
eBay Listings

Return to Uniden Scanners