DSDPlus
From The RadioReference Wiki
DSDPlus is a Win32 application capable of reliably decoding multiple types of digital audio formats commonly found on VHF, UHF and 800 MHz, including (but not necessarily limited to):
DSD+ Features include:
Ability to decode from live audio or from recorded .wav files. Audio file sources need to be 48kHz or 96kHz, 16-bit mono PCM .wav files.
Ability to save audio output in both .WAV and .MP3 format.
Ability to choose both your audio input and your audio output
Ability to pass audio from two-slot systems to separate speakers simultaneously
Advanced decoder options are available to allow you to fine tune DSDPlus for a particular site / system / transmitter that you are monitoring.
DSD+ Version 1.101pt
More development has been done to improve upon DSDPlus 1.074 and this has led to the latest version of the popular Digital decoder. The software and updates to the software can be found at the DSDPlus website
The creator asks that any bugs be reported to one of the Voice Control Channel Decoding Software thread at RadioReference
1.101pt New Features
Changes from DSD+ 1.074 to DSD+ 1.101
---
DSD+: Fixed AMBE tone frame audio generation.
FMA: Added Airspy-compatible FMP (FMPA.exe)
DSD+: Significant reduction in CPU usage when monitoring busy control channels.
Improvement will be most noticeable on low power processors.
DSD+: Detection and decoding of Hytera Extended Pseudo Trunk (XPT) systems.
DSD+: The DSD+ -i command line parameter can contain an IPV4 address;
this lets DSD+ connect to a copy of FMP that is running on a different
PC in your local network or on the Internet
FP: FMP command line processing
The FMP command line format has been modified and is now similar to
the DSD+ command line. FMP rev 1.4t
DSD+: Much faster groups/radios files loading/saving
DSD+: Decoding of more DMR and TIII messages has been added
And other updates, Read Changes.txt in zipfile when downloaded
DSD+ Version 1.101pt
DSDPLUS 1.101pt1 was released 12/25/2015 and is available from DSDPlus; DSDPlus Website Link
This package includes lame.enc.dll file and does not require the cygwin file to operate.
Version 1.101pt Features
Control Channel Decoding for NXDN and DMR systems.
Decodes GPS signals
Channel monitor window, displays trunking info/time-slot info
Audio Input Monitor
Detailed instructions on how to setup for an NXDN Trunked system are here.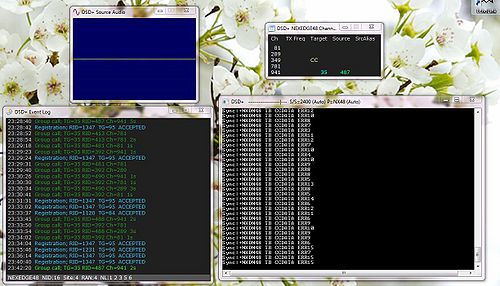 Event Log Features

| FORMAT | Voice | CC-Decode | Radio ID | Talkgroup | Access Code | Time-Slot | GPS Data |
| --- | --- | --- | --- | --- | --- | --- | --- |
| DMR | YES | YES | YES | YES | CC | YES | YES |
| D-STAR | NO | | | | | | |
| IDAS | YES | NO | YES | YES | RAN | N/A | |
| NXDN | YES | YES | YES | YES | RAN | N/A | |
| P25 | YES | | YES | YES | NAC | N/A | |
| ProVoice | YES | | YES | YES | | | |
| X2-TDMA | YES | | | | | YES | |
NOTE: This application does not support any type of decryption.
NOTE: This program requires lame_enc.dll for operation. lame_enc.dll can be obtained from LAME Installation Instructions . Simply follow the instructions #1 through #4 under the Windows section. Once it is installed, search for lame_enc.dll on your filesystem, and once you find it you should copy that file to the same directory that you have put DSDPlus.exe into.

The forum for discussion of this package can be found here.

Original Information Post from Reddit
Software Screenshot
Windows Binary Download
ReadMe


DSDPlus.exe Rev 1.023 Info
SHA256: e6023701f0b02d6f356ad7c5b5ed19cb6dc9065a2cb3ab509a7508da93f4750f
MD5: 1f926b25c4385422eb409f6b69170a9d

Related Links

Return to Wiki page: Trunked Radio Decoders
(No matching DB page)