HomePatrol-2
From The RadioReference Wiki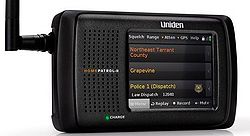 Homepatrol-2 APCO Project 25 Phase II Capable Trunktracker IV scanner.
Specifications
Scanning Methods
Autolocate that can quickly find local systems even if you don't know where you are
City selection for instant reception of local services
Connectible to a GPS accessory receiver (not included) for precise system selection and continuing reselection when traveling
Zip code entry for instant reception of local Police, Fire, and Emergency Medical Services (EMS)
Physical
Built-in Battery Charger
Factory programmed for all known radio systems in the United States and Canada
Optional car mount kit
Shutdown timer (up to 3 hours)
Signal Strength Meter
Standby options include clock display or weather alert
4 GB micro SD for storing favorites lists and recording transmissions
Technical
Power Requirements
Power may be supplied by batteries or a permanent AC or DC source, described as follows:
4 x AA size Rechargeable NiMH Batteries (2300mAh) (included)
4 x AA size Alkaline Batteries (not included)
USB Port DC 5V Power Supply
Optional –
AC Adapter (AC 120V 60Hz to DC5V 1000mA)
DC Adapter (DC 12V to DC5V 1000mA)
USB connection to PC for firmware and database updates through Sentinel software
Frequency Coverage
25.0000 - 512.0000 MHz
758.0000 - 823.9875 MHz
849.0125 - 868.9875 MHz
894.0125 - 960.0000 MHz
1240.0000 - 1300.0000 MHz
Features
Ability to quickly save a found Unit ID
Better location precision for systems – allows you to define a department's location and range using up to 32 rectangles instead of a single circle (circles are still supported).
Channel Alert – sounds a programmable alert when a channel set to alert becomes active.
Emergency Alert – sounds an alert when a unit triggers their emergency status (on compatibleradio systems).
Instant replay plays back up to 240 seconds (4 minutes) of the most recent transmissions.

One-touch recording to capture transmissions for later playback

Multi‐Favorite List Support – lets you monitor up to 256 Favorites List at a time, or combine Favorites Lists and the Full Database for monitoring.
Per‐channel delay – lets you determine how long the HomePatrol‐II stays on a channel after the transmission ends. Longer delays help prevent missing replies. Shorter delays improve overall scanning speed.
Per-channel volume offset
Rebanding supported?

YES

The Sentinel software will import tables for identified rebanded systems from the RadioReference database.
Unit ID Tagging – displays an alpha tag showing the information about a specific radio unit being received.
Extreme Upgrade Features
RR System Compatibility
This scanner is compatible with the following Trunking System Types and System Voices used in the RadioReference Database, of course you must verify that the scanner will cover the appropriate frequency range:
System Voices:

Analog
Analog and APCO-25 Common Air Interface
APCO-25 Common Air Interface Exclusive
In the box
Homepatrol-2
AA NiMH Rechargeable Battery (2300mAh X 4)
Rubber antenna (SMA type)
SMA to BNC Connector
USB cable (USB A to USB Mini B Type)
4 GB microSD Card (installed)
Desk Use Bracket (Stand Type)
Related Pages
Accessories
Cases from ScannerMaster
Mounting Options
Message Boards/Forums
Facebook
Groups.io
Message Board
Twitter

Return to Uniden Scanners