Meeker County (MN)
From The RadioReference Wiki
Wiki Home → Collaboration Gateway → Minnesota → Minnesota Counties → Meeker County

Welcome to the Meeker County, Minnesota collaboration article. This is where you, the user, may index any articles you develop for scanning related topics for your area.
Law Enforcement Agencies
Meeker County Sheriffs Office
Cosmos Police Department
Eden Valley Police Department
Litchfield Police Department
Fire Departments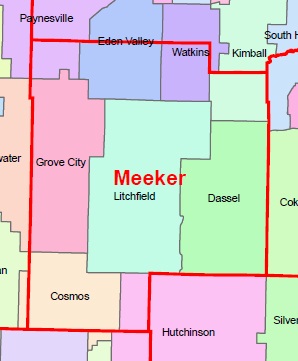 Litchfield Fire
Dassel Fire
Paynesville Fire
Eden Valley Fire
Watkins Fire
Kimball Fire
Grove City Fire
Cosmos Fire
Hutchinson Fire
Radio Paging Tones
All Paging is done on Meeker County Fire Main (154.445) except for Gold Cross Ambulance notified over their Talkgroup
Agency
Tone A
Tone B
Cosmos Fire
1989.0
1930.2
Cosmos Ambulance
1989.0
2468.2
Dassel All Call
2043.8
2468.2
Dassel Fire
2043.8
1930.2
Dassel Rescue
2043.8
2401.0
Eden Valley Fire/Rescue
2094.5
2468.2
Eden Valley Rescue
2094.5
2401.0
Eden Valley Fire
2094.5
1930.2
Grove City Fire/Rescue
2468.2
2334.6
Litchfield Fire
2271.7
1930.2
Litchfield Rescue
2271.7
2334.6
Litchfield All Call
2271.7
2468.2
Watkins Fire
2334.6
1930.2
Watkins Ambulance
2334.6
2401.0
Watkins All Call
2334.6
2468.2
Gold Cross Ambulance
810.2
855.5
Public Alert Receivers
Eden Valley/Watkins
1555.2
1881.0
Grove City/Litchfield/Dassel
707.3
389.0
Cosmos
707.3
470.5
Emergency Medical Services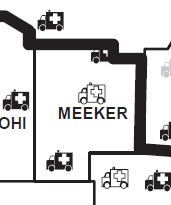 Gold Cross Ambulance - Litchfield (ALS)
Watkins Ambulance (BLS)
Cosmos Ambulance (BLS)
First Response Agencies
Litchfield Rescue Squad
Dassel Fire
Grove City Fire
Eden Valley Fire
ARMER Migration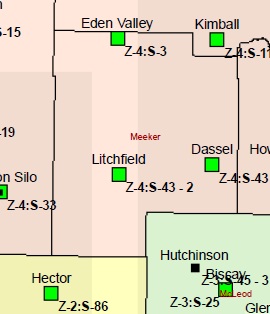 Status - On Air
Sites and Status: All Meeker Sites online.
| Site ID | Site Name | Status | LatDMS | LongDMS |
| --- | --- | --- | --- | --- |
| 4-003 | Eden Valley | | 48.12420N | 94.35179W |
| 4-084 | Litchfield | | 45.04216N | 94.40499W |
| 4-085 | Dassel | | 45.04189N | 94.19230W |
Trunked Radio Systems