STARCOM21 Statewide Illinois
From The RadioReference Wiki
Multi-State
Public Trunked Radio System


Name
STARCOM21 Statewide Illinois
Owners
State Agencies
Illinois State, Illinois Cooperative dba Clear Talk


Counties
Du Page, Effingham, Grundy, Lake, Lee, McHenry, McLean, Madison

Cities
Decatur, DeKalb, Effingham, Freeport, Joliet, Springfield

Others
Ameren Services Company, Pace Suburban Bus Service of the RTA



Owner Type
Public
States
Illinois, Iowa
Country
United States

---

System Details
Band
700/800 MHz
Type
Project 25 Phase II
ID
140
WACN
BEE00
NAC
?

---

FCC Callsign(s)
KNNK867, KUO985, WNFQ712, WNKZ536, WNSS257, WPFF638, WPFF639, WPHN431, WPHS867, WPKW428, WPLR422, WPMV426, WPPA939, WPTZ798, WPUE331, WQAH919, WQAH920, WQAJ442, WQAZ296, WQAZ297, WQAZ301, WQBA363, WQBA367, WQBU915, WQBU917, WQBU918, WQBV381, WQBV728, WQBV729, WQBV730, WQBV731, WQBV759, WQBW852, WQBY294, WQBY332, WQBY659, WQCE613, WQCE614, WQCE615, WQCE616, WQCE617, WQCE618, WQCE619, WQCE887, WQCE888, WQCE890, WQCE891, WQCE893, WQCF257, WQCF611, WQCF927, WQCH641, WQCK437, WQCK458, WQCK467, WQCK827, WQCK972, WQCL731, WQCQ871, WQCQ941, WQCR916, WQCS280, WQCS843, WQCT407, WQCT761, WQCT945, WQCV211, WQCW207, WQCW249, WQCX280, WQCX387, WQCX408, WQCX725, WQCZ741, WQCZ742, WQDB543, WQDB972, WQDB973, WQDB974, WQDB975, WQDB977, WQDB980, WQDB983, WQDB984, WQDB985, WQDB986, WQDB987, WQDB989, WQDB990, WQDB991, WQDB992, WQDB993, WQDB997, WQDB999, WQDC200, WQDC201, WQDC202, WQDC310, WQDC312, WQDC313, WQDC314, WQDC315, WQDC318, WQDC319, WQDC325, WQDC327, WQDC331, WQDC332, WQDC334, WQDC335, WQDC336, WQDC337, WQDC344, WQDC346, WQDC347, WQDC350, WQDC351, WQDC353, WQDC356, WQDC357, WQDC358, WQDC374, WQDC375, WQDC377, WQDC378, WQDC380, WQDC439, WQDE395, WQDE396, WQDE401, WQDE405, WQDE408, WQDE410, WQDE612, WQDE615, WQDF391, WQDF425, WQDF951, WQDF965, WQDF966, WQDF986, WQDF987, WQDF990, WQDF991, WQDF994, WQDF995, WQDF996, WQDG570, WQDG572, WQDG893, WQDH526, WQDK722, WQDM709, WQDY915, WQDY935, WQDY951, WQDY953, WQFB931, WQFB935, WQFC654, WQFC655, WQFC658, WQFG434, WQFG436, WQFG438, WQFG453, WQFG455, WQFG460, WQFH217, WQFH218, WQFH219, WQFH220, WQFH221, WQFH222, WQFJ266, WQFL430, WQFL431, WQFL741, WQFM341, WQFM342, WQFM538, WQFM539, WQFM541, WQFM542, WQFM567, WQFM636, WQFQ592, WQIU451, WQIU452, WQIU453, WQIU454, WQIU455, WQIU879, WQIV595, WQIV687, WQIV785, WQIV786, WQIV788, WQIX547, WQJC405, WQJE480, WQJR536, WQJZ345, WQKQ642, WQKS907, WQKW733, WQLC406, WQLC959, WQLD338, WQLD649, WQLD666, WQLD702, WQLD705, WQLF813, WQLR414, WQMF378, WQMI818, WQMI957, WQMM933, WQMM934, WQMN292, WQMN293, WQMN771, WQMN772, WQMY464, WQNW595, WQNW633, WQOF258, WQOF260, WQPJ963, WQPQ473, WQPZ370, WQPZ371, WQQD814, WQQE904, WQRC400, WQRC405, WQRD266, WQRP739, WQRP740, WQRP741, WQRU310, WQTS478, WQTT802, WQWG813, WQWX320, WQWX459, WQWY303, WQXD460

Expired/Cancelled Callsigns
KNBG980, KNJU694, WPDR768, WPKY604, WPUJ269, WPXC480, WPYD278, WQBK382, WQCQ550, WQFU332, WQFU337, WQFU338, WQFZ353, WQGI692, WQGI694, WQGI699, WQGI814, WQGI815, WQGI819, WQGZ352, WQGZ353, WQIM662, WQIZ942, WQJS829, WQJZ890, WQKA379, WQKA569, WQKB984, WQKF518, WQPH298, WQPH299, WQTD218, WRQV326,

---

System-specific links
Database
FCC Site Map
Forum
RR Site Map

---

Other Resources
Trunktracking
FAQ
Trunktracking
Glossary

---

Wiki FAQ
MediaWiki
QuickRef
PDF Card
Wiki Home → Collaboration Gateway → United States → Illinois, Iowa → STARCOM21 Statewide Illinois TRS

Welcome to the STARCOM21 Statewide Illinois collaboration article, a Multi-State Public Trunked Radio System located in Illinois, Iowa, United States.
This is where you, the user, may index any articles you develop for scanning related topics for this Trunked Radio System.
Some talkgroups on this system may be using P25 Phase II TDMA modulation, which can only be monitored using a P25 Phase II capable scanner or receiver.
Click HERE for a list of scanners capable of monitoring those talkgroups.
Related Wiki Pages and Links
Starcom21 is the Statewide Motorola Project 25 TRS in Illinois for public safety radio communications. The purpose of this page is to provide supplemental information to the Radioreference.com Starcom21 page.

Radio IDs (RIDs) / User IDs (UIDs)
Feel free to add any RIDs to the lists below, using the current format.
Unidentified/Unconfirmed Talk Group IDs (TGIDS)
https://wiki.radioreference.com/index.php/IL-STARCOM21-Talkgroups#Unidentified_Talkgroups
Site/Tower Google Map
This may prove I have too much time on my hands, but I have taken all of the information from the CARMA profile and plotted all the transmit sites for StarCom using the "my maps" feature of Google Maps. Anyone wanting to check it out can go here: Link
A few things about the map:
After plugging in the coordinates for each site on the map I tried to locate the exact tower or structure used by a combination of satellite view, street view, and in some cases switching to Microsoft's Bing Maps for their Birds Eye view. If it still wasn't exactly clear I made a guess usually just putting the mark where the lat/lon coordinates landed me.
Pushpins are used for single site locations, blue for the north zone, green for central, and purple for south.
The "balloon" type pins are used on all simulcast sites, with different colors for each site.
At this time I included the county owned sites that use the same technology as StarCom including McHenry County (all of these being co-located with StarCom sites), Champaign's MDICE, and the St. Clair County system. My only regret doing this is that with all these sites included Google shows two separate pages for the sites, so not all of them are visible at one time on the map. I'm debating whether to take these sites out and make the map strictly StarCom so all the sites show up at once.
Google allows anyone with a Google account to make changes to the map, however I have it set up to only allow those that I invite to make the changes. If anyone is interested in helping to maintain the map or make corrections or additions to it, send me your e-mail address and I will add your name to the list. If you notice any errors either in locations of towers or the control channels listed and don't have a Google account or don't want to mess with the map, e-mail me and I will be glad to make the corrections.
Comments, praise, and even criticisms are welcome. -Mike McGowan - K9JPM
New StarCom21 tower map (Click here) - The above map has become outdated; I've attempted to reach the map owner to offer help to update the map, have not gotten a response. I have created a map that display updated and current tower locations for 8 digital systems within the state. Last update to the map for each system is in the description of the map. If you have any questions, comments, concerns please feel free to contact me. Enjoy! - Isaiah (LtgInrage)
For a printable map of tower sites, click the image below: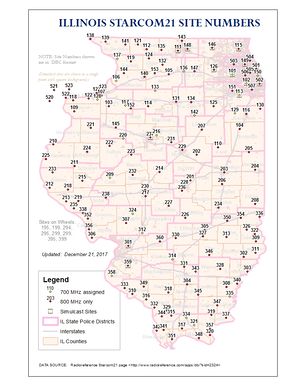 Old Sites
| Site | Name | County | Freqs |             |             |             |             |             |             |
| --- | --- | --- | --- | --- | --- | --- | --- | --- | --- |
| 3 (3) 905 (389) | Belleville [OFF AIR - was 3-005] | St. Clair | 851.33750 | 851.86250c | 852.38750a | 852.91250a | | | |
| 3 (3) 925 (39D) | Edwardsville/SIUE [OFF AIR - was 3-025] | Madison | 851.25000 | 851.83750 | 852.11250c | 852.77500a | 853.66250a | 853.98750 | 854.01250 |
| | | | 858.33750 | 860.33750 | | | | | |
| 3 (3) 953 (3B9) | Caseyville [OFF AIR - was 3-053] | St. Clair | 774.05625 | 774.28125c | 774.59375a | 774.81875a | | | |
| 3 (3) 955 (3BB) | Godfrey/Alton [OFF AIR - was 3-055] | Madison | 851.35000a | 851.87500c | 852.40000a | 852.66250 | 853.08750 | 858.21250 | |
| 3 (3) 999 (3E7) | Mascoutah [OFF AIR - was 3-001] | St. Clair | 774.78125 | 775.34375c | 775.55625a | 775.80625a | 855.16250 | 859.33750 | |
| 3 (3) 999 (3E7) | East St. Louis [OFF AIR 11/12 - was 3-023] | St. Clair | 851.83750 | 852.36250c | 852.88750a | 853.98750a | 858.33750 | | |
Who is currently using Starcom21 (Needs finished updating)
https://www2.illinois.gov/sites/doit/services/catalog/Documents/STARCOM21_Subscriber_List.pdf <- Subscriber List State Entities
Illinois State Police
Secretary of State
Department of Transportation
Department of Corrections
Illinois Toll Highway Authority (ITHA)
Department of Military Affairs
Illinois Environmental Protection Agency
Illinois Terrorism Task Force (ITTF)

Provided 2,500 radios to governmental agencies - State, County, Municipal, Fire, Police, Public Health, First Responder task forces, and groups

Department Natural Resources
Illinois Commerce Commission
Office of the Inspector Genral
Illinois Emergency Management Agencie (IEMA)
State Fire Marshall
Administrative Office of the Illinois Courts
Department of Public Health
Illinois Attorney Genral

State Universities
Northern Illinois
Illinois State
Southern Illinois
University of Illinois
Eastern Illinois

Municipal Users

Adams County
Emergency Management Agency
Health Department
Sheriffs Department
Quincy PD
Boone County
Boone County Sheriff's Department
Belvidere Police
Cook County
Cook County Sheriff
numerous municipal police departments within the county
Advocate Christ Medical Center
DuPage County
DuPage County
DuPage County Sheriff
virtually every municipal police and fire department within the county
Fulton County
Fulton County Sheriff
Canton Police Department
Dunfermline Police Department
Farmington Police Department
Lewistown Police Department
Fairview Police Department
Avon Police Department
Canton Park District Police
Fulton County ESDA
Fulton County Highway Department
Fulton County EMA (currently patched)
Canton Fire Department (patch)
Henry County
Henry County Sheriff (rural PD's still use VHF)
Knox County
Lee County
Lee County Sheriff (however mostly uses 154.785)
Livingston County
LivComm 911
Sheriffs Department
Health Department
Livingston PD
Probatation
Logan County
Emergency Management Agency
Health Department
Logan-Trivoli FPD
Macon County
Macon County Sheriff's Department
Decatur Police Department
Long Creek Fire
Madison County
Madison County Sheriff's Department & Jail
Madison County Coroner's Office
Glen Carbon Police Department
Hamel Police Department
Madison Police Department
Maryville Police Department
Troy Police Department
Granite City Police Department
McHenry County
Algonquin-Lake in the Hills Fire Department
Algonquin PD
McLean County
Illinois State University (ISU) PD
McLean County Sheriff (and all Rural PD's in McLean County)
McLean County Animal Control; Juvenile Detention Center; County Courthouse Security
Normal Police
Normal Fire
Mercer County
Peoria County
Advance Medical Transport of Central Illinois
Sagamon County
St. Clair County
St. Clair County Sheriff's Department
St. Clair County Highway Department
St. Clair County ESDA
Memorial Hospital in Belleville
"MetroLink" regional light rail transit and bus system
Scott Air Force Base
MidAmerica Airport
Coroner, Public Health Department, State's Attorney, Probation Department, Housing Inspectors
Public Defender, Detention Center, Animal Control, Mental Health Board
Millstadt Police, Fire, EMS
Summerfield Police
Marissa Police
Fayetteville Police
Mascoutah Police, EMS
Shiloh Police
Stookey Township (Road Maintenance)
Fairview Heights Police, Fire
O'Fallon Police, Fire, EMS
Fairmont City Police, Fire
New Athens Fire
Midway Fire
East Carondelet Police
Marissa Fire
Church Road Fire
Lenzburg Fire
Camp Jackson Fire
Lebanon Police, Fire
Brooklyn Police, Fire
Prairie DuPont Fire
Golden Garden Fire
Villa Hills Fire
Fayetteville Fire
St. Libory Fire
French Village Fire
Washington Park Police Department ("Willie"/"William" units on TG7024
Will County
Plainfield Police Department
Romeoville Police Department
Lockport Police
Lockport Township FPD
Winnebago County
Rockford Police Department
Loves Park Police
Others Users

Ameren Utility Company (AmerenIP, AmerenCIPS, AmerenUE)
Ameren uses 800 MHz voice channels on 700 MHz control channel sites.
Statewide Ameren Mobile License WNQJ842
Illinois State Police
The Illinois State Police (ISP) is using the Starcom21 TRS as its primary means of communication. VHF may be used infrequently as an alternate channel in some districts. 155.4750 ISPERN is still in use.
ISP District Chicago as of 9/18/07
ISP District 1 (Sterling) as of 9/6/2007
ISP District 2 (Elgin) as of ?/?/2007
ISP District 5 (Joliet) as of late August 2007
ISP District 6 (Pontiac) as of 8/14/2007
ISP District 7 (Rock Island) as of 8/23/2007
ISP District 8 (Peoria) as of 8/16/2007
ISP District 9 (Springfield) as of 8/2/2007
ISP District 10 (Pesotum) as of 8/9/2007
ISP District 11 (Collinsville) as of 7/24/2007
ISP District 12 (Effingham) as of 7/27/2007
ISP District 13 (DuQuoin) as of ?April 2007
ISP District 14 (Macomb) as of 8/21/2007
ISP District 15 (Chicago Tollways-Oakbrook) as of ?9/2007
ISP District 16 (Rockford) 9/11/2007
ISP District 17 (La Salle) as of August 28, 2007
ISP District 18 (Litchfield) as of 7/31/2007
ISP District 19 (Carmi) as of ?April 2007
ISP District 20 (Pittsfield) as of 8/?/2007
ISP District 21 (Ashkum) as of 9/4/2007
ISP District 22 (Ullin) as of ?April 2007
For Starcom21 Pro96com identified radio id's and Pro96com files, see below
Related Links

Return to Wiki page: Trunked Radio Systems (IN), Trunked Radio Systems (IA)]