EMS / Ambulance / Medical Helicopters / IDPH (IL)
From The RadioReference Wiki
Illinois Department of Public Health (IDPH)
KB61079 8 high power units on 155.16, 25 high power units on all other VHF
IDPH I-REACH/VHF Interoperbility Radios:
XTL-5000 (mobile), HT-1250 (portable), MTR-2000 (Base Station)
In base radio, 110wt VHF, with up to 16 channels:
1) 155.2800 141.3 PL - Statewide Hospital Disaster Coordination
2) 155.3400 210.7 PL - Statewide MERCI Tone
3) 155.3400, 155.4000, 155.1600, 155.2200 (with Local Tone)
Illinois IDPH EMS Systems
North Egypt EMS System The North Egypt E.M.S. System was established in 1979 and serves Jefferson, Marion, Franklin, Washington, Perry, and Saline County. The North Egypt E.M.S. System is located in E.M.S. Region Five as established by the Illinois Department of Public Health. The paramedics within the North Egypt E.M.S. System operate under direct medical direction and standing medical orders
Air Helos/Med-Evac
Air Angels (Bolingbrook)
2/09 - Air Angels copter service goes out of business
Locations: Clow International Airport, Bolingbrook & Dupage Airport (W Chicago)
Seen on crew handhelds: "Princeton" and "Gary" channels (trunked?)
Former use on A-Beep / Sears2 - UHF (Chicago) LTR Standard Possibly using talkgroup 0-20-101
463.47500 468.47500 WPIE265 RM 162.2 PL AirAngels U4 Chicago Alternate 
464.95000 469.95000 WPLE964 RM 047 DPL AirAngels U2 Operations  
469.95000 WPLE964 M 047 DPL AirAngels U3 Ops: Talk Around (w/ dispatcher and on-scene use) 
123.07500 /apps/db/?fccCallsign=M CSQ AirAngels Air Operations 

Air Evac Lifeteam
Communications may be heard hundreds of miles away
Air Methods
WQWX343 - 461.5250 Repeater, 468.8750 Mobile (11K at Bradley-Kankakee), used by Lifestar Chicago (Joliet)
ARCH Air Medical Services
Superior Air Med
In addition to their STARCOM21 talkgroup (36531), Superior Air Med utilizes Outerlink Global Solutions' satellite-based service IRIS, which includes Push-To-Talk VoIP radio.
University of Chicago Aeromedical Network (UCAN)
UCAN Base (129.475) has been heard acting as the Chicago-area base for aeromed helos from outside the Chicago area, including SAMARITAN 2 (Parkview Health, based at Rochester, Indiana).
EMS Agencies
Abbott Ambulance
Serves Metro East St Louis (IL) and St Louis
Medstar EMS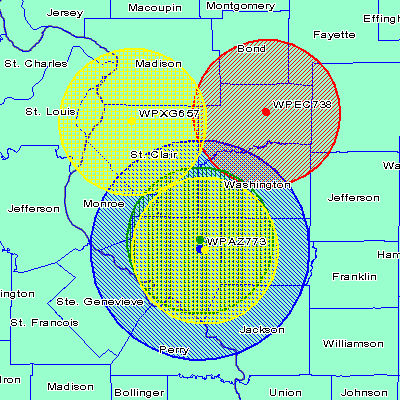 938.975 D074 Local Repeater (in use Fairview Heights 11/19/17)
Freeburg/Swansea/Belleville (618) 234-3088 Fairview Heights (618) 398-8833 Cahokia (618) 332-3088
Serves eastern half of Belleville, Cahokia, Swansea, Fairview Heights (Largest service in the MetroEast - operates 31 rigs in 3 counties)
Ambulances/Units: (Plates: 4 837 xx 05,11,15,24) BLS 64, 65, 101 ALS 34,68,70,71,72,73,74,75,76,77*,78,79 (St. Clair County units) * not heard some are back-up vehicles Medivan Units: 43, 4447, 455, 4474 ?? Other units: 101 Utility van (used by janitor)
Bases
Sparta (Randolph) ALS 4G25-main, 4G24-main, 4G21-backup Red Bud ALS 4G18-main, 4G26-backup
Red Bud (Randolph)
Chester (Randolph) ALS 4G20-main, 4G16-backup
Steeleville (Randolph)
Swansea (St Clair) ALS, 1209 N. Illinois Street
Belleville (St Clair) ALS, 610 East Main Street: 74, 76:: 24 hour units, 73: 7am - 7pm 6 days a week
Cahokia (St Clair) ALS (Formerly Braun Ambulance Service)
East St Louis (St Clair)
Fairview Heights (St Clair) ALS
Freeburg (St Clair) ALS (Located in Freeburg VFD) Lebanon ALS (Located in Lebanon VFD) Unit 76?
Lebanon (St Clair)
Washington Park (St Clair)
Carlyle (Clinton)
Advanced Life Support Notes: Operate 3 - 24 hour ALS trucks with one in Chester, Red Bud, and Sparta along with a 12 hour BLS truck in Steeleville which is a call out truck at night. The Steeleville base can turn into an ALS truck during the day and also a BLS backup for the nights. The three ALS bases also have a backup ALS truck that can be staffed at busy times or mass casuality situations.
Has a channel on Wireless USA? called USB-A?
Related Links

Return to DB page: EMS / Ambulance / Medical Helicopters / IDPH (IL)
Return to Wiki page: Illinois (US)