NY State Police (NY)
From The RadioReference Wiki
NYSP Troop Information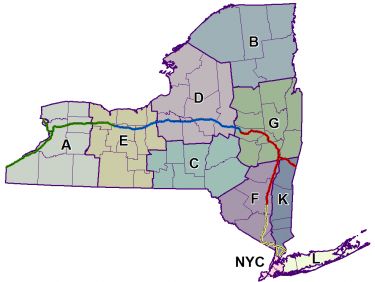 NYSP Patrol Areas
| Troop | Counties in Patrol Area |
| --- | --- |
| A | Allegany, Cattaraugus, Chautauqua, Erie, Genesee, Niagara, Orleans & Wyoming |
| B | Clinton, Essex, Franklin, Hamilton & St. Lawrence |
| C | Broome, Chenango, Cortland, Delaware, Otsego, Tioga & Tompkins |
| D | Herkimer, Jefferson, Lewis, Madison, Oneida, Onondaga & Oswego |
| E | Cayuga, Chemung, Livingston, Monroe, Ontario, Schuyler, Seneca, Steuben, Wayne & Yates |
| F | Greene, Orange, Rockland, Sullivan & Ulster |
| G | Albany, Fulton, Hamilton, Montgomery, Rensselaer, Saratoga, Schenectady, Schoharie, Warren & Washington |
| K | Columbia, Dutchess, Putnam, Westchester |
| L | Nassau and Suffolk |
| T | New York State Thruway Authority |
| NYC | New York City (Bronx, New York, Kings, Queens, Richmond) |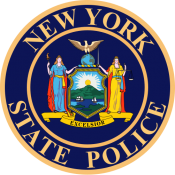 State Police Codes
SIGNAL CODES
B - Phone HQ (or Phone ____)
7 - Failure to pay toll
55 - What is your location
90 - Request for overtime
FILE CODES
1 - Stolen vehicle
2 - Motor vehicle registration check
3 - Report to division headquarters
4 - Hit & run
5 - Wanted person
6 - Missing person
7 - Burglary
8 - Robbery
9 - Lost/missing property
10 - Stolen property
11 - Assault
12 - Homicide
13 - General information
14 - Administrative message
15 - Request for information
16 - Lost/stolen license plates
20 - Criminal investigation
28 - Weather & road conditions
44 - Test messages follow
GENERAL CODES
RED FLASH - Major Emergency (Clear the channel)
AA - Automobile accident
DV - Disabled vehicle
F - Fatal
PD - Property damage
PI - Personal injury
S&R - Suspension(s) & revocation(s)
New York State Police use the standard APCO 10-Codes
State Police Units
X=Troop letter
#=1 through 4 (except for troops lacking a fourth zone, Headquarters, and Troop NYC)
TROOP HEADQUARTERS1
X1 - Major
X2-X4 - Captains
X5 - Bureau of Criminal Investigation Captain
X10-X99 - Troop administrative units2
X100-X112 - Traffic Incident Management Team
X131-X134 - ATVs
X200-X203 - Concealed Identity Traffic Enforcement
ZONE UNITS3
X1-#X9 - Supervisor4
X10-#X79 - Patrol units5
X80-#X83 - Canine units
X84-#X86 - Special units6
X87-#X89 - Traffic enforcement7
X90-#X99 - Patrol
BUREAU OF CRIMINAL INVESTIGATION (BCI)
X5 - BCI Captain
5X1 - BCI Lieutenant
5X15-5X24 - BCI Senior Investigators
5X125-5X199 - BCI Investigators
PORTABLES
6X1-6X99 - Administrative Portables
6X100-6X499 - Trooper Portables
6X500-6X599 - BCI Portables
NON-NYSP UNITS
N60-N79 - Environmental Conservation Marine Enforcement Unit
7X1-7X9999 - Varies drastically by troop
7N1-7N9 - Environmental Conservation Police Central Office command units
7N100-7N999 - Environmental Conservation Police8
8X1-8X9 - New York State Park Police command
8X10-8X69 - New York State Park Police patrol
8X70 - New York State Park Police tow unit
8X80-8X82 - New York State Park Police canine
8X83 - New York State Park Police Mounted Unit tow
8X85 - New York State Park Police high angle rescue
8X86 - New York State Park Police van
8H01-8H09 - New York State Financial Services investigatory command
8H10-8H99 - New York State Financial Services investigators
8H100-8H199 - New York State Park Police headquarters units
8N1-8N5 - Forest Rangers Central Office command units
8N10-8N90 - Forest Rangers captains
8N100-8N999 - Forest Rangers8
DISPATCHERS9
9X1-9X9 - Dispatcher
9X10-9X99 - Dispatcher(?)
STATE POLICE SPECIAL DESIGNATIONS
AB1-AB3 - Underwater Recovery Team airboats
EVOC1-EVOC26 - Emergency vehicle operator course cars
MC1-MC23 - Patrol motorcycles
SORT1-SORT6 - Special Operations Response Team Bearcats10
URT1-URT7 - Underwater Recovery Team boats
TROOP DESIGNATIONS (X)
A through G - State Police troops11
H - State Police Headquarters and some non-NYSP units
J - State Police Narcotics Units12
K and L - State Police troops11
M - State Police Troop NYC11
N - State Environmental Conservation
P - Department of Corrections
R - State Police Academy and State Park rangers
S - State Police Special Investigations Units13
V - State Police Violent Felony Warrant Squad12
X - State Police Governor's Protection Unit and Capitol patrols

1: Does not apply to Headquarters or Academy (see dedicated wiki page), does not seem to apply to Troop NYC. It seems some troops have additional numbering blocks, such as 300 and 400, but these have only been observed with Troop D.
2: Units include non-zone Commercial Vehicle Enforcement, drone units, haz-mat, SCUBA Emergency Management, non-zone Bomb Disposal Units, school resource officers, utility units, non-patrol command units, and more.
3: Does not apply to Headquarters or Troop NYC.
4: Only applies to some troops.
5: Some exceptions, mainly for task force units, some other special units. Includes supervisors if troop does not use the #X1-#X9 range.
6: Typically includes Commercial Vehicle Enforcement, Bomb Disposal Units, traffic enforcement units, and sometimes patrol units.
7: The latter 80 call signs have been typically been reserved for traffic enforcement since the 1980s. Chevrolet Camaros were always numbered as were usually numbered #X87 and #X88, and while the Camaros are gone, many troops still reserve the range for traffic enforcement. If it is not a traffic enforcement unit, the range is usually out of service. None of this applies to Troop T, which use the range for special units, such as canine units.
8: Includes patrol units, supervisors, and some special units. See dedicated wiki page.
9: Some troops give dispatchers five digit call signs in the 9X#00-9X#99 range. The "#" designates the dispatcher's zone, if the number is "0," it designates a troop headquarters dispatcher). There may be some exceptions to the 9X1-9X99 format, but this remains unclear.
10: May identify as MRT1 through MRT6. This remains unclear.
11: Designates area of the state, not NYSP troop. Non-NYSP units marked with an "X" use the same designator as the local NYSP troop.
12: Likely outdated. Many task force units use the local troop letter.
13: Likely outdated.
Related Links