US Forest Service - Los Padres National Forest (CA)
From The RadioReference Wiki
Los Padres National Forest (LPF - Forest #07) "Los Padres" KME 2-1
The Los Padres ("the Fathers") National Forest encompasses approximately 1.762,400 acres of central California's scenic Coast and Transverse Ranges. The forest stretches across almost 220 miles from north to south and is divided between two noncontiguous areas. The northern portion, on the Monterey Ranger District, includes the beautiful Big Sur Coast and scenic interior areas. It contains the Ventana Wilderness, a home to the California Condor. The southern portion of the forest contains several mountain ranges including the Santa Lucia Mountains, La Panza Range, Caliente Range (a small part), Sierra Madre Mountains, San Rafael Mountains, Santa Ynez Mountains, and Topatopa Mountains; the highest parts of the forest are not within named mountain ranges, but are adjacent to the western San Emigdio Mountains and include Mount Pinos, Cerro Noroeste, and Reyes Peak. The forest is also adjacent to the Angeles National Forest and is nearby Carrizo Plain National Monument, on the western edge of the San Joaquin Valley and managed by the Bureau of Land Management. The Los Padres holds the distinction of being the only National Forest whose boundary reaches an ocean. Many rivers in southern and central California have their points of origin within the Los Padres National Forest, including the Carmel, Salinas, Cuyama, Sisquoc, Santa Ynez, Sespe, Ventura, and Piru. These rivers supply a substantial portion of the water needs of several downstream communities. There are 10 wilderness areas on the Los Padres covering 48% of the forest. The Los Padres serves an enormous population base including the San Francisco Bay Area, the greater Los Angeles Metropolitan area, the southern San Joaquin Valley and the many communities along the south and central coast. The Forest provides the scenic backdrop for many communities and plays a significant role in the quality of life in this area.
The Los Padres National Forest is a key area that is essential in the recovery efforts for the endangered California condor. The Hopper Mountain National Wildlife Refuge, a 2,471-acre refuge was established in 1974, is surrounded by the Los Padres. This is where the captive breeding for the species is done. The Bitter Creek National Wildlife Refuge, established in 1985, covers 14,096 acres. It borders the Forest on the north side of the Mt. Pinos Ranger District near the junction of California State Highways 33 and 166. The Forest manages two condor sanctuaries, the 1200-acre Sisquoc Condor Sanctuary in the San Rafael Wilderness and the 53,000-acre Sespe Condor Sanctuary, north of the Hopper Mountain refuge. To protect the condor these sanctuaries and the National Wildlife Refuges, are all closed to the public.
Old growth on the forest covers 18,900 acres. It consists of Jeffrey pine (Pinus jeffreyi), Coastal Redwood (Sequoia Sempervirens), Coast Douglas fir (Pseudotsuga menziesii var. menziesii), and White fir (Abies concolor).
There is a considerable risk of wildfire in Los Padres National Forest resulting from a combination of weather, vegetation, terrain and human use. Intense wildfires, fed by accumulation of dead vegetation, cause substantial resource damage and are difficult and expensive to suppress. Wildfire burned over 2.3 million acres in Los Padres National Forest since 1912, for a historic average of 25,000 acres per year. Most wildfires in the forest are human-caused, the balance are lightning-caused. The average annual wildfire occurrence has increased steadily over the last 60 years. This increase is attributed to urban encroachment, expanded recreational use of the forest, and old-age chaparral. Chaparral accounts for over 95 percent of the acres burned annually by wildfire.
The forest is divided into five ranger districts, Monterey (District 1), Santa Lucia Ranger (District 3), Santa Barbara (District 4), Ojai (District 5) and Mount Pinos (District 7) Ranger Districts, with the Forest Supervisor's Office in Goleta.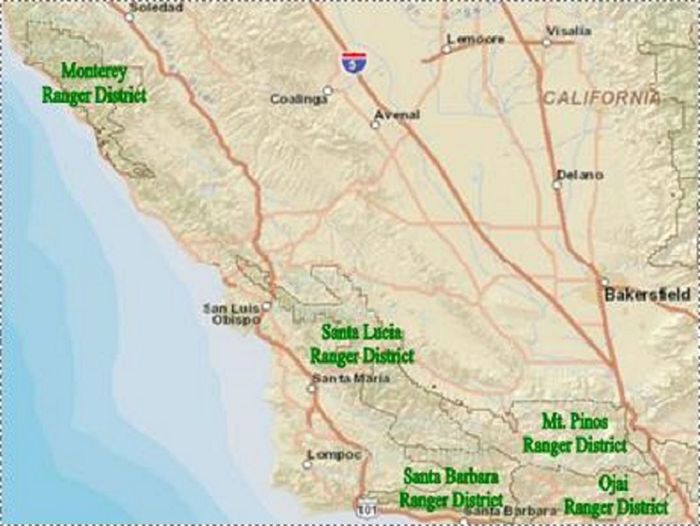 RADIO SYSTEM
The Los Padres National Forest has two repeater nets, Forest Net and Admin. For tactical communication two frequencies are utilized that are not assigned for tactical purposes anywhere else. The two were frequencies originally assigned to the Los Padres for an admin net, but this net was never installed. The Forest gained two tactical frequencies, but was left without an admin net. The Forest is using its assigned Service Net frequency pair as an Admin net. The Los Padres has provided channels to enable direct or simplex communications on each repeater net. There are 17 repeaters on the Los Padres and one remote base on Santa Ynez Peak that controls all the repeaters. This number of repeaters is due to the distances involved and ruggedness of the terrain. One of the repeaters is located offshore on Santa Cruz island, the only repeater of this type in the Forest Service. The two Los Padres tactical channels, Channel 3 (170.475 MHz) and Channel 4 (172.350 MHz) can be configured for use in a portable command repeater with (Tone 15 - 162.2). When units arrive on the scene of an incident they are instructed to switch to Channel 3. If simultaneous incidents occur in proximity of each other the Communications Center will assign tactical frequencies to each incident, which may involve use of Channel 4.
Other
This is the only National Forest in the region, and possibly in the nation, with three helicopters assigned to it. They are based at Arroyo Grande (H527), the Santa Ynez Airport (H528) and the Chuchupate (Mt. Pinos District) Ranger Station (H530).
This Forest uses the function name, district number, position number system to identify non fire management personnel. Individuals working at the Forest Supervisor's Office use the number 6 following the function name. The Los Padres Communications Center provides All-Risk Dispatching services to the Los Padres National Forest, the Hopper Mountain and Bitter Creek National Wildlife Refuges; and the fire function of Vandenberg Air Force Base and Fort Hunter Ligget Army Training Base. In addition it serves as a logistical channel to the Operations Southern California Geographical Area Coordination Center for the Santa Ynez Band of Chumash Mission Indians, Channel Islands National Park and for the Bureau of Reclamation managed reservoirs at Lake Casitas and Lake Cachuma. This communications center is located in Santa Maria. Its identifier is "Los Padres."
Channel Plan
Los Padres National Forest Channel Lineup (1)

| | | | | | |
| --- | --- | --- | --- | --- | --- |
| Channel | Tone(s) | Rx | Tx | Alpha Tag | Description |
| 1 | | 170.4625 | 170.4625 | LPF1 FrstDir | Los Padres N.F. - Forest Net Direct - Use Tone 8 (103.5) |
| 2 | 1-16 | 170.4625 | 164.9125 | LPF2 FrstRpt | Los Padres N.F. - Forest Net Repeater |
| 3 | | 168.2625 | 168.2625 | LPF3 T3 | Los Padres N.F. - Tac 3 (2) |
| 4 | | 172.3500 | 172.350 | LPF4 T4 | Los Padres N.'F. - Tac 4 (2) |
| 5 | | 168.2000 | 168.2000 | LPF5 NIFC T2 | NIFC Tac 2 |
| 6 | | 167.4750 | 167.4750 | LPF6 A/G 41 CA03 P | National Air-Ground 41 - CA03 Zone Primary |
| 7 | | 171.5500 | 171.5500 | LPF7 AdminDir | Los Padres NF - Admin Net Direct - Use Tone 8 (103.5) |
| 8 | All but 7 | 171.5500 | 164.1500 | LPF8 AdminRpt | Los Padres NF - Admin Net Repeater |
| 14 (3) | 3-8, 14 | 171.5000 | 164.8250 | LPF14 ServRpt | Los Padres NF - Service Net Repeater |
(1) This is the channel plan in the Santa Barbara Ranger District "Frontcountry" radio group. Each ranger district has two groups available for different portions of the district (north and south or east and west), with the exception of the Ojai Ranger District, which has only one group.
(2) The authorization for these two frequencies ends in 2016.
(3) Apparently the Los Padres is adding a service net. As of spring 2015 it is only available on Channel 14 in the Monterey Ranger District "East" group. It is unknown which peak or peaks it is installed on.
Note: because this forest is so spread out, it would require about 4 National Flight Following remote bases to cover the forest. Flight following is conducted on Forest Net, except on the Mt. Pinos Ranger District using the National Flight Following remote base on Frazier Mountain.
Tones
LPF Repeaters

| Tone | Location | CTCSS Tone |
| --- | --- | --- |
| 1 | Frazier | 110.9 |
| 2 | Sisar Peak | 123.0 |
| 3 | La Cumbre | 131.8 |
| 4 | Alder Peak | 136.5 |
| 5 | Black Mtn. | 146.2 |
| 6 | Torrey Hill | 156.7 |
| 7 | Mt. Pinos | 167.9 |
| 8 | Cone Peak | 103.5 |
| 8 | Santa Ynez Peak | 103.5 (1) |
| 9 | Tassajera Peak | 100.0 |
| 10 | Chews Ridge | 107.2 |
| 11 | Plowshare Peak | 114.8 |
| 12 | Tepusquet Peak | 127.3 |
| 13 | Anderson Peak | 141.3 |
| 14 | Figueroa Mtn. | 151.4 |
| 15 | Piedras Blancas | 162.2 (Forest Net only) |
| 15 | Calandra | 162.2 (Admin Net only) |
| 16 | Santa Cruz Island | 192.8 (2) |
All repeaters transmit Tone 8 - 103.5 on the repeater output frequency. The remote base on Santa Ynez Peak transmits Tone 1 - 110.9 on the output.
(1) This is the LPF's only remote base and not a repeater. Use Channels 1 (Forest Net) or 7 (Admin Net), both simplex, and this tone to contact dispatch. Works on the Santa Barbara Ranger District only.
(2) ICS205 from 2018 indicates Tone 16 is Santa Ynez Peak (Admin Net)
Station Locations
Casitas Station #51 - 3333 Casitas Pass Rd. (aka State Route 150) between Santa Ana Rd. & Casitas Pass Ridge Rd., Ventura. (This station is located at the following coordinates: 34.407620/-119.370737)
Ojai Station #52 - 1188-1190 E. Ojai Ave. (aka State Route 150) between North Shady Ln. & Golden West Ave., Ojai.
Temescal Station #53 - Piru Canyon Rd. between Dominguez Canyon Rd. & Burma Rd., Piru. (This station is located at the following coordinates: 34.473517/-118.762446)
Sespe Station #54 - 613 Old Telegraph Rd. between B St. & C St., Fillmore. (This station is shared with Ventura Co. FPD Station #27)
Ozena Station #72 - Maricopa Hwy. (aka State Route 33) just south of Lockwood Valley Rd., Maricopa (This station is located at the following coordinates: 34.683530/-119.354039)
Related Links
National Incident Radio Support Cache - These frequencies are used for large incidents, usually when a Type I or Type II Incident Management Team is assigned. This cache is used for fires, floods, tornadoes, hurricanes, visits of high ranking officials, such the U.S. President and the presidents of other countries, large law enforcement incidents, special events and other incidents where the federal government is utilizing the Incident Command System.
Return to DB page: United States Forest Service (CA)