Difference between revisions of "Radio Control Software"
From The RadioReference Wiki
Line 1:
Line 1:
−

'''Radio control software''' organized by receiver manufacturer.

+

'''Radio control software''' organized by receiver manufacturer.

 
 
 

== Radio Shack / GRE ==

 

== Radio Shack / GRE ==
---
Revision as of 10:00, 7 October 2007
Radio control software organized by receiver manufacturer. Links to locations where data files for some of these applications may be found in our Programming Files article
Radio Shack / GRE

WinXX series from Don Starr's Starrsoft.com. Closed-source, commercial software for MS-Windows. Starrsoft distributes some of the packages at no charge but it is not public domain. The demo version only works for 30 days then is disabled. Supposedly, some people who claim to have sent money via snail mail or the internet claim to have never received a key, refund or even a reply to inquiries. Until Don Starr catches up on the backlog, DO NOT SEND MONEY to starrsoft (or send cash thru the mails to anyone for that matter). However, on his website, he has apologized for falling behind in processing cash and offers a SIX MONTH free key to those who need it.
Uniden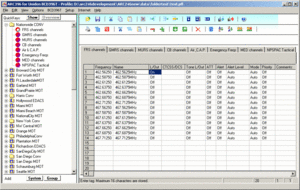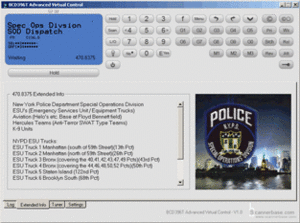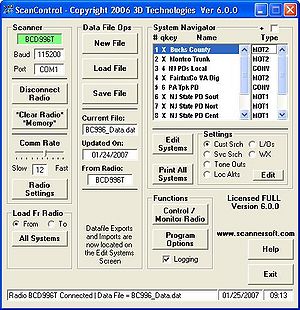 DOS packages
Linux or tcl/tk packages
Other OS
Windows packages
bcTool is designed to be a simple, easy to use and above all free application to help you program, control and log your Uniden Bearcat Dynamic Memory Scanner.
BuTel Software's Advanced Radio Control. Closed-source, commercial MS-Windows software. Demo versions are available.

ARC-EazyStream for Uniden BC780/BC785/BC796/BC246T/BCD396T/BR330T/BCD996T/BCT15/UBC785/UBC3500/SC230/USC230
ARC8 for the BCT8
ARC15 Lite,Basic & Pro for the BCT15
ARC200 for the SC200
ARC246 for the BC246T
ARC250-Euro Basic & Pro for the UBC3300
ARC396 Basic & Pro, Clone396 for the BCD396T
ARC780 for the BC780XLT/UBC780
ARC898 for the BC898T
ARC996 Basic & Pro for the BCD996T
ARC-Sport, Clone230 for the SC230
ARC-Sport LiTe, Clone230 for the SC230
ARC330 Basic & Pro Clone330 for the BR330T
'Scanner Over IP' software for BC785/BC796
ProScan

Version: 1.6 Build 1 Description: Software for the BC 250, BC 296, BC 780, BC 785, and the BC 796 with Scanner Over IP Multicast / Point-To-Point Remote Control, Audio Recorder, Database, Logging, and More!
Scannerbase Advanced Virtual Control. Closed-source, MS-Windows software available at no charge.
Signal Intelligence provides closed-source, commercial, MS-Windows software for a variety of radios.

Support for most Uniden scanners, programming only support for many RS models
Winscan 780 - Pozilla Software's closed-source, commercial. MS-Windows software for the BC780XLT.
Other brands
FTBVR5K Support for the Yaesu/Vertex VR-5000
Frequency Manager Supports Yaesu/Vertex VR5000, receivers by TenTec, AOR, Japan Radio Corporation (NRD series), Drake and others, numerous ham transceivers by Kenwood, Icom, Yaesu
Scancat-Lite-Plus from Computer Aided Technologies. Closed-source, commercial MS-Windows software that supports a number of radios: BC245XLT, BC246T, BC250D, BC296D, BC780XLT, BC785D, BC796D, BC895XLT, BC898T, BCD396T, BCT8, SC230. In addition, numerous Radio Shack scanners (not the PRO92/2067) are supported.
Bob Parnass' open-source, multi-platform, GPLed software for a variety of radios:

Yaesu

Icom

Other

tk545 for the JRC NRD-545
Other HF Related Control Packages
This section lists packages that work with other receivers, many not yet covered in any of the other pages, such as the popular TenTec RX-320, JRC NRD series receivers, the Drake R8 series and more.

ATS909 Programer

Supports: Sangean ATS-909, RS DX-398, Siemans RK777, Roberts R861

Frequency Manager

Supported Radios are listed here

Mscan Meteo Pro

Supports: Icom, JRC NRD-345/535/545, Lowe HF-150, Quadrad, Ten-Tec RX-320, most Yaesu models

Orchid City Software
RXWings

Supports: AOR AR7030, JRC NRD-535, NRD-545, TenTec RX320

Scan Manager

Supports: Most Kenwood, Yaesu, Icom plus Drake R8A (not R8)

Turbo 535

Supports: JRC NRD-535/535D
Other Download Areas
Amateur transceivers
CBT, Inc- Commercial programming software for Alinco radios.
Commander Commander is a free application that controls up to 4 Icom, TenTec, Kenwood, Yaesu, Elecraft, FlexRadio, Alinco, or Kachina transceivers, switching between them manually or automatically based on frequency, and displaying frequency-dependent settings for devices like tuners and amplifiers; includes a bandspread and transverter support. Commander is a member of the freeware DXLab Suite, which supports soundcard PSK31, soundcard PSK63, soundcard and/or TNC RTTY, CW generation, logging, award tracking, QSL generation, LotW and eQSL.cc synchronization, QSL route discovery, antenna rotation, world map display, DX and WWV spot collection, and propagation forecasting.

Comments on EHam about Commander can be found here
G4HFQ's closed-source, commercial software for the MS-Windows platform that controls a variety of Yaesu radios. Demo available.
Ham Radio Deluxe - Ham Radio Deluxe (HRD) is a suite of free Windows programs providing CAT control for commonly used transceivers and receivers. HRD also includes mapping and PSK31 software. Supports most Icom, Kenwood, Ten-Tec, Yaesu, and Elecraft Receivers and Transcievers. Great for both Ham operators and SWL listeners.
KC8UNJ- Free programming software for many Yaesu handhelds, including the VX-2, VX-5, VX-6, VX-7, VR-120, FT-60 as well as the Icom R-2.
RadioControl Modular 32-bit Windows user interface compliant application for controlling multiple receivers and amateur radio transceivers simultaneously. Beside direct control, it also features frequency and memory management and various scan options. The functionality can be extended by plug-ins (external modules). Supported radios range from AOR (like AR-5000, AR-8200), Icom (like IC-R7100, IC-R8500, IC-PCR1000) to WiNRADiO.
RT Systems- Commercial programming software for several brands of ham radios, including Yaesu, Icom, Alinco, and ADI.

Comments on EHam about RT Systems products can be found here
tk7 Bob Parnass' open-source, GPLed, multi-platform software for the Icom Q7A/E
TRX Manager Supports the Yaesu/Vertex VR-5000, Icom R-75, R-7000, R-7100, R-8500 and numerous ham transceivers by Kenwood, Yaesu, Icom and TenTec
Utilities