Montgomery County (IL)
From The RadioReference Wiki
Montgomery County 911 / ETSB
Established Oct 1995; receives about 20,000 calls a year
Dispatches for EMA, MABAS Division 56, Haz-Mat and Dive Team.
Dispatches for Litchfield Police except Mon-Fri 0800-1600
Shoal Creek also dispatched direct on 154.13 162.2 PL by Bond County 911.
Weekly Test Page on Monday nights at 7:30pm for all departments (Back-up PSAP at Taylorville/Christian County 911) (mutiple freqs/tones)
Departments use the "I Am Responding" phone app
6/22 - The county is going to purchase a VHF simulcast for 911 using ARPA funds ($345,000)
7/22 - New FCC License modification to current Fire Frequencies, adding NXDN/DMR/P25 emissions WQFE421
Dispatches agencies: Coffeen Fire, Farmersville Fire/Ambulance, Fillmore Fire, Hillsboro Fire/Ambulance, Irving Fire, Litchfield Fire/EMS, Nokomis-Witt Ambulance, Nokomis Fire, Raymond-Harvel Fire (2 page tone sets), Raymond-Harvel Ambulance, Shoal Creek Fire & Rescue, Witt Fire, 911 and EMA Coordinator, HAZMAT Team, Hazmat Tone NE, Hazmat Tone SE, Hazmat Tone SE (heard rebroadcast on 154.13 162.2 PL)
Uses Fireground Blue for Water Operations
154.325 D047 for Northwest Depts; D023 for Northeast Depts; D223 for Southeast Depts. (1/13)
154.325 D047 heard paging Raymond-Harvel Fire (with DTMF tail, via phone?) (also on 225.7?) (8/13)
Reported that departments use their local repeater (Chris Coss) that feeds into (simulcasts on) the 151.46 Rptr. 911 still simulcasts 151.4 R pages/dispatches locally on 154.325 (which some pagers are still on).
WRMC646 - License for 155.055 IREACH
Chris Coss Frequencies
WQDM689 -- 90.35 DISPATCH FOR COMMUINCATIONS COMPANY AND TACTICAL USE BY LOCAL EMERGENCY SERVICES WQFE421 -- 90.35 RADIO COMMUNICATION USE BY ELIGIBLES.
140 N. MAIN STREET - HILLSBORO
CLEVELAND & MAIN STREETS - PANAMA
502 S. SHERMAN - LITCHFIELD
159.7125 151.8575 WQFE421 RM 162 DPL *heard 10/14/06 - Appears to be a simulcast of 154.325/151.4600 was Paging Shoal Creek Fire
SOUTH EAST & NOBBE STREETS - FARMERSVILLE
CAPPS & MILLER STREETS - NOKOMIS POPLAR & W. RAILROAD STREETS - FILLMORE
Greg Nimmo Frequencies
4/06 Most bases are located at or near a fire department. PRIVATE BUS DISPATCH RADIOS WILL BE USED TO COORDINATE DAILY BUS DISPATCHING ACTIVITIES AT VARIOUS LOCATIONS
140 N MAIN ST HILLSBORO, IL
CORNER OF CLEVELAND AND MAIN ST PANAMA
502 S SHERMAN LITCHFIELD
CORNER OF S EAST AND NOBBE FARMERSVILLE
CORNER OF CAPPS AND MILLER NOKOMIS
CORNER OF POPLAR AND W RAILROAD FILMORE
Montgomery County Sheriff
Sheriff Units: 68-xx
68-91 (1/21)
173.25 100.0 (heard in Litchfield, both sides of conversation of Sheriff repeater 2/14, 4/14) (hrd Farmersville 5/15)
Summer 2022 - Transitioned to new P25 radio system. All sheriff/police in the county can now talk to each other.
2022 Sheriff/Rural Law P25 System (assumed that 10xx are mobile units and 11xx are portables)
1000 Dispatch?
1004
1013
1104
1113
Municipalities and Districts
Townships and Water Districts
Bois D'Arc Township
WQQN324 - Road Ops on 159.4575 Base/Mobile (NFM at Farmersville) possibly 103.5PL hrd 2015)
Coffeen (City)
155.41500 KNEZ869 BM Coffeen City City Operations (162.2?) [Expired] FMN Multi-Dispatch
155.80500 WPIS436 BM Coffeen PW Public Works [Expired] FMN Public Works
Coffeen Fire Protection District
Donnellson
Fire provided by Shoal Creek FPD
Farmersville
WQSI931 - 159.96 Base/Mobile, assumed for Water Department operations (NFM)
173.39 91.5 PL also heard in use (Musical Notes) (12/13)
Farmersville-Waggoner Fire Department / Ambulance
Reported that Rural Towns pages repeat off the tower at Farmersville
Fillmore (Village)
2022 App 0010256941 for Water Data - 451.6125 FXO
Fillmore Community Fire Protection District
Coverage area includes parts of Fayette County.
EMS provided by Hillsboro Ambulance.
Hillsboro (City)
Police
Former: 155.085R (153.8375) WPYY616 RM 210.7 PL (Voice Inversion capable) (change to D351 2018)
154.445 - Fire: Paging/Dispatch (rpts 154.325 D023, then rpts on 154.325 CSQ) 6pm Test Page (pages on 151.45 1/18)
Hillsboro Area Ambulance Service
Responds to: Hillsboro, Fillmore
Irving (City?)
Police provided by Sheriff, Hillsboro; EMS provided by Hillsboro Ambulance
Irving Volunteer Fire Department
154.17500 WNMQ811 BM IrvingFireground Fireground [Expired 9/13]
Litchfield (City)
Litchfield Police Department
Dispatched locally Mon-Fri 0800-1600, by county the remaining time
Transitioned to a new P25 system Summer 2022 after being on a DMR Tier 3 system for a short time
Tier 3 RIDs
4 - Dispatcher
213 "213"
397
649
Litchfield Fire Department
Staff of 10 paid, 37 volunteer protecting 10,000 people in 33 sq miles out of 2 stations.
Member of MABAS 56 and the 3M Firemen's Association Litchfield,
May request Mutual Aid from Mt. Olive Fire/EMS for areas around I-55. Also may contact Mac911 on 154.7475R for info or assistance
154.37 also licensed on KCN968 (but not known to be in use)
Mount Olive
Mount Olive Fire Protection District
Serves a small portion of I-55 and land in Montgomery County, mostly in Macoupin County.
Nokomis
Nokomis Fire
Nokomis-Witt Area Ambulance Service
Coverage area: Nokomis, Witt, Ohlman
155.20500 WPFA581 BM NokomisWitt EMS EMS: Local [Expired 6/14]
Panama
Shoal Creek Fire and Rescue (Panama)
Serves: Panama, Donnellson
Raymond
154.995 CSQ, Montgomery Co 911 paging Raymond Harvel Fire/Ambulance for 10-50 (12/16/13)
Taylor Springs
Taylor Springs Volunteer Fire Department
Witt
Witt Volunteer Fire Department
School Districts
Hillsboro Community Unit School District 3
Litchfield Community Unit School District 12
Nokomis Unit School District #22
Wenonah, Fillmore, Coalton
OLD Expired (155.175 WXT623 BM 203.5 PL Nok School Bus Buses FMN Schools
Panhandle Community Unit School District 2 (Raymond)
District serves the communities of Raymond, Harvel, Waggoner and Farmersville
155.235 D503 heard in use btwn Raymond and Rochester, unknown ops. (3/13)
Maps and Images
Montgomery County Townships Map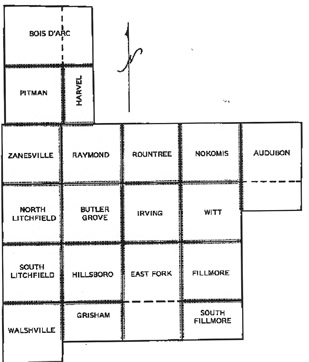 Montgomery County Pager Tones
| | | |
| --- | --- | --- |
| Agency (Updated) | Tone A | Tone B |
| NW/SE/SW/NE All County | 634.5 / 707.3 | |
| NW/SE/SW/NE Hazmat | 433.7 / 539.0 | |
| EMA | 349.0 / 669.9 | |
| Coffeen Fire | 349.0 / 410.8 | |
| Farmerville-Waggoner Ambulance | 339.6 long | |
| Farmerville-Waggoner Fire | 312.7 / 339.6 | |
| Filmore Ambulance | | |
| Filmore Fire | 524.8 / 602.6 | QCI |
| Filmore Fire | 667.5 / 712.5 | |
| Hillsboro Ambulance (2018) | 746.8 | 600.9 |
| Hillsboro Fire | 600.9 / 634.5 | |
| Irving Fire | 330.5 / 433.7 | |
| Litchfield Fire/EMS | long 645.7 | |
| Litchfield Fire (2018) | 524.6 | 879.0 |
| Litchfield Fire | 346.7 / 881.0 | |
| Nokomis-Witt Ambulance | 778.5 / 746.8 | |
| Nokomis Fire | 458.57? / 389.13? | |
| Raymond/Harvel Ambulance | long 539.0 | |
| Raymond-Harvel Fire (too?) | very long 539.0 | |
| Raymond Harvel Fire | 634.5 / 832.5 | |
| Raymond Harvel Fire | 832.5 / 634.5 | |
| Shoal Creek First Responders | long 389.0 | |
| Shoal Creek Fire Department | 483.5 / 389.0 | |
| Taylor Springs Fire (2018) | 634.5 | 600.9 |
| Witt Fire | 553.9 / 584.8 | |
| | | |
| | | |
Related Wiki Pages
External Links

Return to DB page: Montgomery County (IL)
Return to Wiki page: Illinois Counties